Martin Hart-Landsberg*
Os formuladores de políticas governamentais, independentemente do partido no poder, gostam de projetar um futuro róseo. No entanto, as reivindicações de renovação econômica, sem mudanças fundamentais na estrutura e funcionamento da economia dos EUA, não devem ser levadas a sério. As mudanças fundamentais que eu defendo são as que: impulsionarão dramaticamente o poder dos trabalhadores; assegurarão uma base de financiamento progressiva e crescente para uma expansão necessária da habitação pública e infra-estrutura e gastos públicos em saúde, educação e transporte; e acabarão com a produção e uso de combustíveis fósseis e reduzirão significativamente as emissões de gases de efeito estufa.
Mudanças fundamentais são necessárias porque os Estados Unidos sofrem com um longo período de crescimento lento e em declínio, o que é conhecido como estagnação secular.
A tabela a seguir, tirada de uma publicação de um
blog
do Financial Times, mostra a duração e a taxa média de crescimento de cada expansão econômica no período pós-guerra. A expansão atual, que começou no segundo trimestre de 2009, é a terceira mais longa, embora em breve se torne a segunda. Entre outras coisas, isso significa que uma nova recessão provavelmente não está longe (especialmente com o Conselho do Federal Reserve aparentemente comprometido com o aumento das taxas de juros).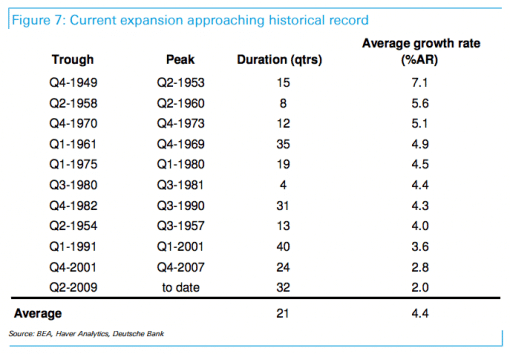 Como podemos ver, a expansão atual registrou a menor taxa de crescimento de qualquer expansão. Além disso, como Cardiff Garcia, o autor da postagem do blog, ressalta: "Também é preocupante a observação da tabela que toda expansão subsequente desde 1970 cresceu a um ritmo mais lento que o antecessor, independentemente do que causou a desaceleração da qual estava se recuperando".
Michalis Nikiforos e Gennaro Zezza começam o
relatório
do Levy Economics Institute sobre as tendências econômicas atuais da seguinte forma:
"Do ponto de vista macroeconômico, 2016 foi um ano comum no período pós-Grande Recessão. Como nos anos anteriores, as previsões convencionais diziam que este seria o ano em que a economia finalmente escaparia do "novo normal" da estagnação secular. Mas, como em todos os anos anteriores, as previsões foram desmentidas pelo resultado real: crescimento inferior ao esperado - apenas 1,6 por cento."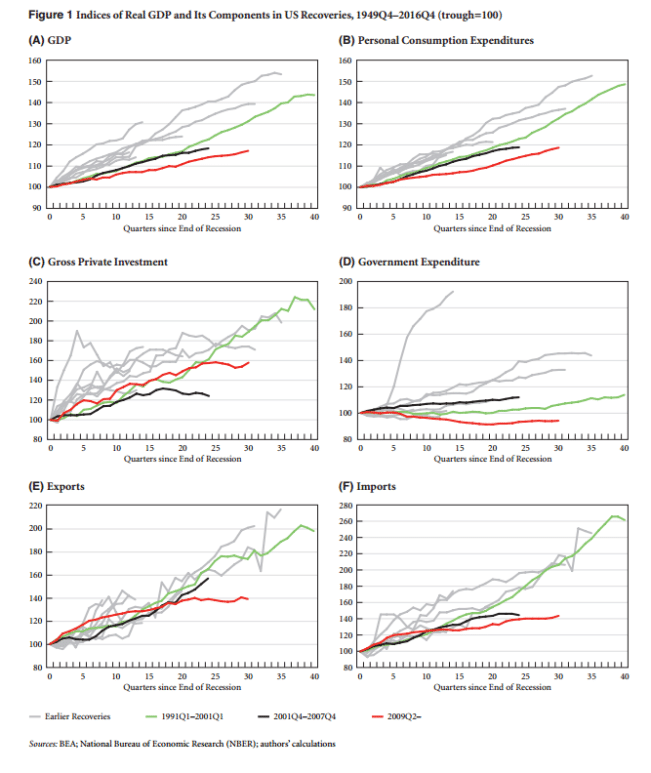 Os gráficos a seguir ilustram a fraqueza global da expansão atual. Cada gráfico mostra, para cada expansão do pós-guerra, um indicador macro importante e seu crescimento ao longo do tempo desde o final de sua recessão anterior. As três expansões mais recentes, incluindo a atual, são coloridas.

O gráfico 1A deixa claro que o crescimento foi mais lento nessa expansão do que em qualquer expansão anterior. O gráfico 1B mostra que "o consumo real cresceu apenas cerca de 18% em relação ao ano de 2009 - semelhante à expansão do PIB - e também se destaca como a recuperação mais lenta do crescimento do consumo no pós-guerra".
Talvez o mais impressionante seja a diminuição real da despesa real do governo mostrada no gráfico 1D. A despesa real do governo é cerca de 6% menor do que era há oito anos. Em nenhuma outra expansão, as despesas reais do governo caíram. Sem dúvida, a austeridade é uma das principais razões para a nossa lenta expansão.

Significativamente, como vemos no gráfico 7 abaixo, o mercado de ações continuou a crescer apesar do fraco desempenho da economia. Este valor mostra que o valor total do mercado de ações aumentou acentuadamente, independentemente de ser comparado ao crescimento da receita ou lucro pessoal (medido pelo superávit operacional líquido). Esse aumento geralmente manteve aqueles que estão no topo da pirâmide de renda feliz, apesar do desempenho econômico geral fraco do país.
Sem dúvida, a estagnação salarial em curso, que deprimiu o consumo e a privatização, que cresceu em conjunto com a austeridade, ajudou a alimentar esta nova bolha do mercado de ações. Uma das razões pelas quais os principais rentistas foram tão favoráveis ​​aos amplos contornos da política de administração Trump é que ela foi projetada para fortalecer ambas as tendências.
A recessão virá. Numa era de estagnação secular, a desaceleração atingirá uma economia já fraca e uma classe trabalhadora em dificuldades. E a recuperação que se segue provavelmente será mais fraca do que a atual. As forças do mercado não nos salvam. As melhorias reais exigem mudanças transformadoras na política.
* Martin Hart-Landsberg é professor emérito de economia no Lewis and Clark College, Portland, Oregon; e pesquisador adjunto no Instituto de Ciências Sociais, Universidade Nacional de Gyeongsang, Coréia do Sul. Suas áreas de ensino e pesquisa incluem economia política, desenvolvimento econômico, economia internacional e economia política do Leste Asiático. Ele também é membro do Conselho dos Direitos dos Trabalhadores (Portland, Oregon) e mantém um blog
Reports from the Economic Front
onde este artigo apareceu pela primeira vez.